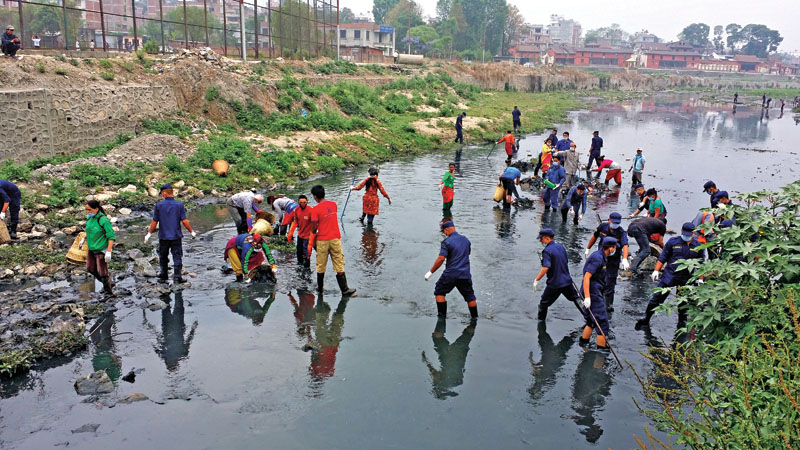 Kathmandu, Aug 20: The Bagmati clean-up campaign today reached its 171st week and collected 25 metric tons of waste products from Tripureshwor and Gunsingal stretch of the historic Bagmati river.
Around 650 representatives from Kathmandu Metropolitan City (KMC), Lalitpur Sub Metropolitan City, High Powered Committee for Integrated Development of the Bagmati Civilization, Nepal Army, Nepal Police, Armed Police Force (APF) and Federation of Nepalese Chamber of Commerce and Industry among 35 other organizations took part in today's clean-up campaign.
The Committee's sociologist, Mala Kharel, told the RSS that those disposing of garbage long the banks of the Bagmati river were being fined. "We collected Rs 81,000 in fine from those disposing of their garbage by the river bank last week and this week it was Rs 25,000," Kharel said.
The door-to-door awareness campaign started by the Bagmati clean-up campaign was given continuity this week as well.
Today's clean-up campaign was led by former Secretary at Drinking Water and Sanitation, Suresh Prakash Acharya, and Lalitpur Sub Metropolis Executive Officer, Bharat Mani Pandey.
As part of the clean-up of Rudramati river – into 130th week – the campaigners scooped up rubbish from Kamalpokhari. The clean-up was led by Additional Inspector General of Police (AIGP), Bigyan Raj Sharma, according to Rudramati Concern Society Chairman, Basudev Marasini.
The campaign – which saw participation of 600 individuals including police officials, students and social workers – collected six metric tons of waste.
Meanwhile, the Bishnumati river clean-up campaign, which is into 106th week, collected four metric tons of garbage from Paropakar bridge area. The fallen trees at Sundhara near Paropakar bridge, which is around 300 years older than the Dharahara's Sundhara, were removed, campaigner, Bijendra Lama said.
Likewise, during the Nakhu river clean-up, which is into 51st week, garbage was collected from near the Safal Park's Ganesh temple at Karya Binayak Municipality.